Author:
Jennifer Pooley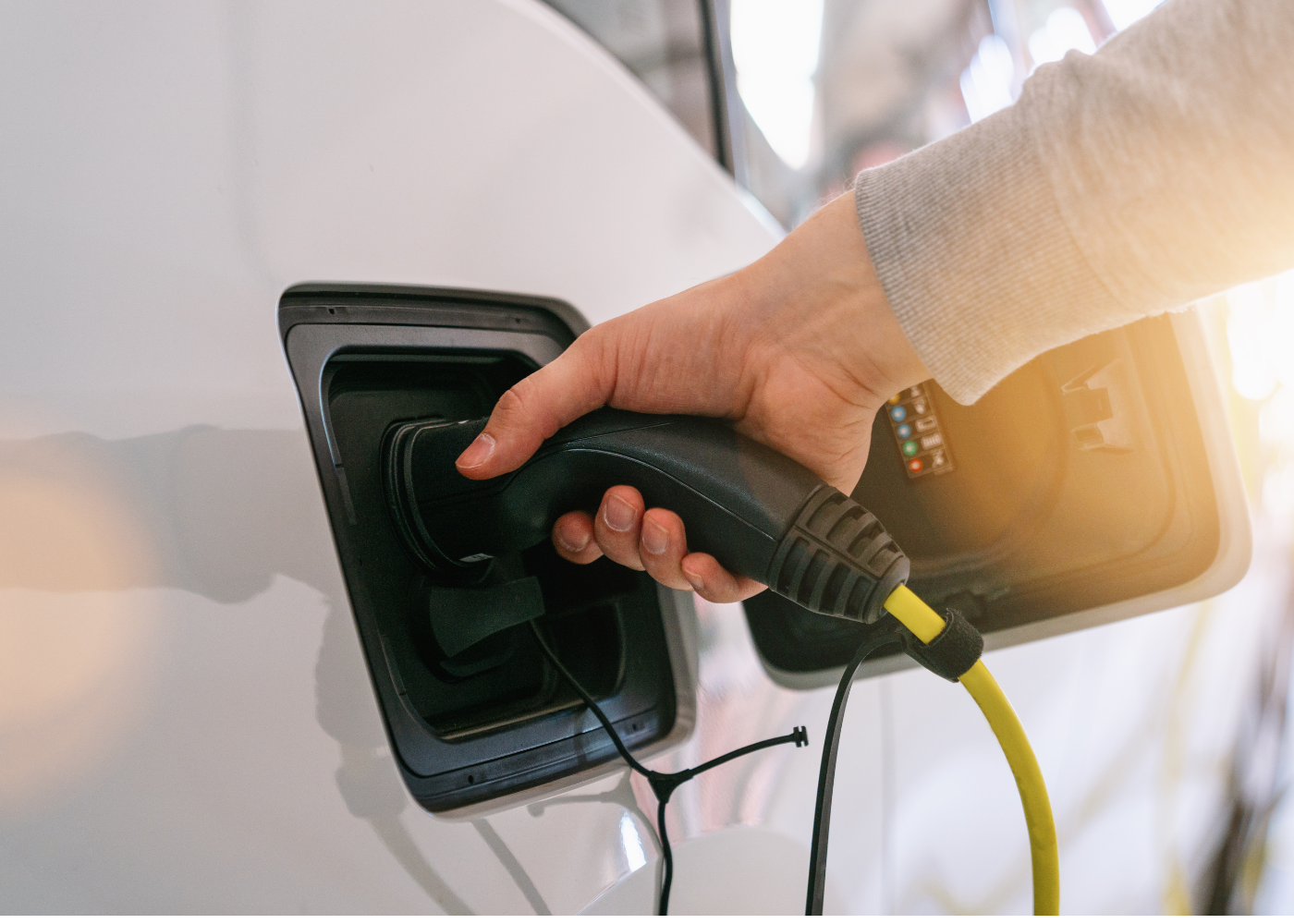 With more and more people around the world driving Electric vehicles (EVs) and plug-in hybrid vehicles, governments, councils and building owners are having to find ways to implement EV chargers to accommodate them. In this drive to be more sustainable, it raises questions such as whether it's possible to have a solar EV charger? And if it is, can you have solar power if you live in an apartment or flat? And of course, whether there are other benefits apart from the environmental impact?
These kinds of questions were recently touched on by The Guardian in their recent article on the hurdles apartment dwellers face when it comes to installing EV chargers, where our very own 'SolShare' was featured as a potential solution.
What Is a Solar EV Charger?
For many, the reason they decide to opt for an EV is that it's better for the environment. No expensive petrol, no fumes in our neighbourhoods, fewer greenhouse gas emissions – it's a win-win. Charging an EV with solar power makes it even more appealing.
A solar EV charger allows you to charge your vehicle with the solar panels attached to your roof and top it up with energy from the grid when necessary. Some independent chargers even have solar panels attached to them. In terms of appearance, they're pretty similar to regular EV chargers but there are a lot of benefits to them for both the environment and the vehicle owner.
How Can Residents Benefit from Installing an Apartment Solar EV Charging Station?
For many years it was very difficult, if not impossible, for apartment-dwellers to change their electricity system, install a solar EV charging station, or benefit from solar energy at all. Owners and companies believed these changes to be too expensive and unnecessary – but that's changing. The SolShare is the world's only hardware that allows multiple apartments to share a single rooftop solar system for an affordable price. Residents (and owners) get to reap the benefits this brings, including installing EV charging stations that run on solar power.
The EV charging stations can be wired in two ways:
An EV charging station is installed at the designated parking spot of the apartment resident and is wired up to the circuit of that apartment.
EV charging stations are installed in the car park and connected to the Common Light and Power circuit (sometimes called Community Power) which provides electricity to the hallways, elevators, swimming pools and other common areas and facilities.
So what happens if you have an EV but your neighbour doesn't? They're probably not going to be happy paying for their petrol while also using less solar than you because you're using up all the solar power to charge your car. Thankfully the SolShare automatically registers the amount of solar energy that each apartment receives in a month and can ensure that every unit connected to the system receives the same. So even if one neighbour charges their car, and the others are only home before and after work – everyone gets the same solar benefit.
If the EV chargers are connected to the Common Light and Power, then there are some companies providing a billing service to ensure that the Owners Corporation (also known as a Strata Community or Homeowners Association) recoups the cost of charging from the EV owner on a user pays basis.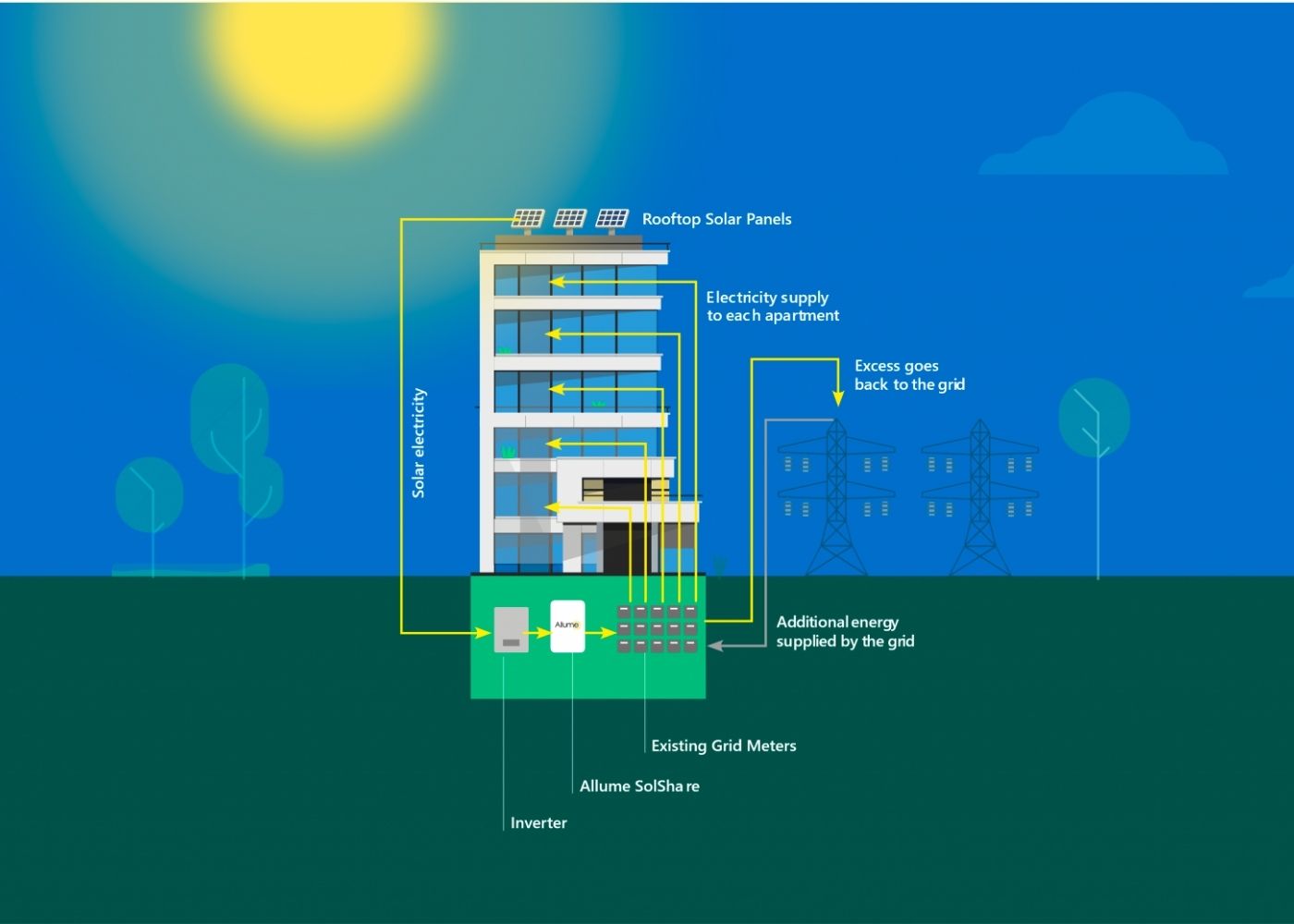 How Can Property Owners and Councils Benefit?
Whether they want to or not, property owners can't deny that the world is changing. Governments are being voted in that have a clearer and greener plan for the future and people have a wider selection of EVs to choose from. As an example Ford has announced that all vehicles sold in Europe will be electric by 2030 and General Motors has said that their factories will only produce electric vehicles by 2035. The European Union recently banned the sale of vehicles that use petrol or diesel from 2035.
So this trend is only going to keep on growing.
The more common it is for people to own EVs the more normal it will be for them to expect a solar EV charger in their home or complex. Property owners who have the intention of renting and who haven't installed a vehicle charger will be losing out on potential renters or current tenants will leave.  As well as this, with rising energy costs – tenants may start looking for complexes where they'll have access to rooftop solar to help reduce their energy bills.
For many, the worry comes when they think about how solar panels or a solar energy sharing system will change the appearance of their property. Luckily, the SolShare system is discrete and, as the Guardian describes it, 'about the size of a computer'.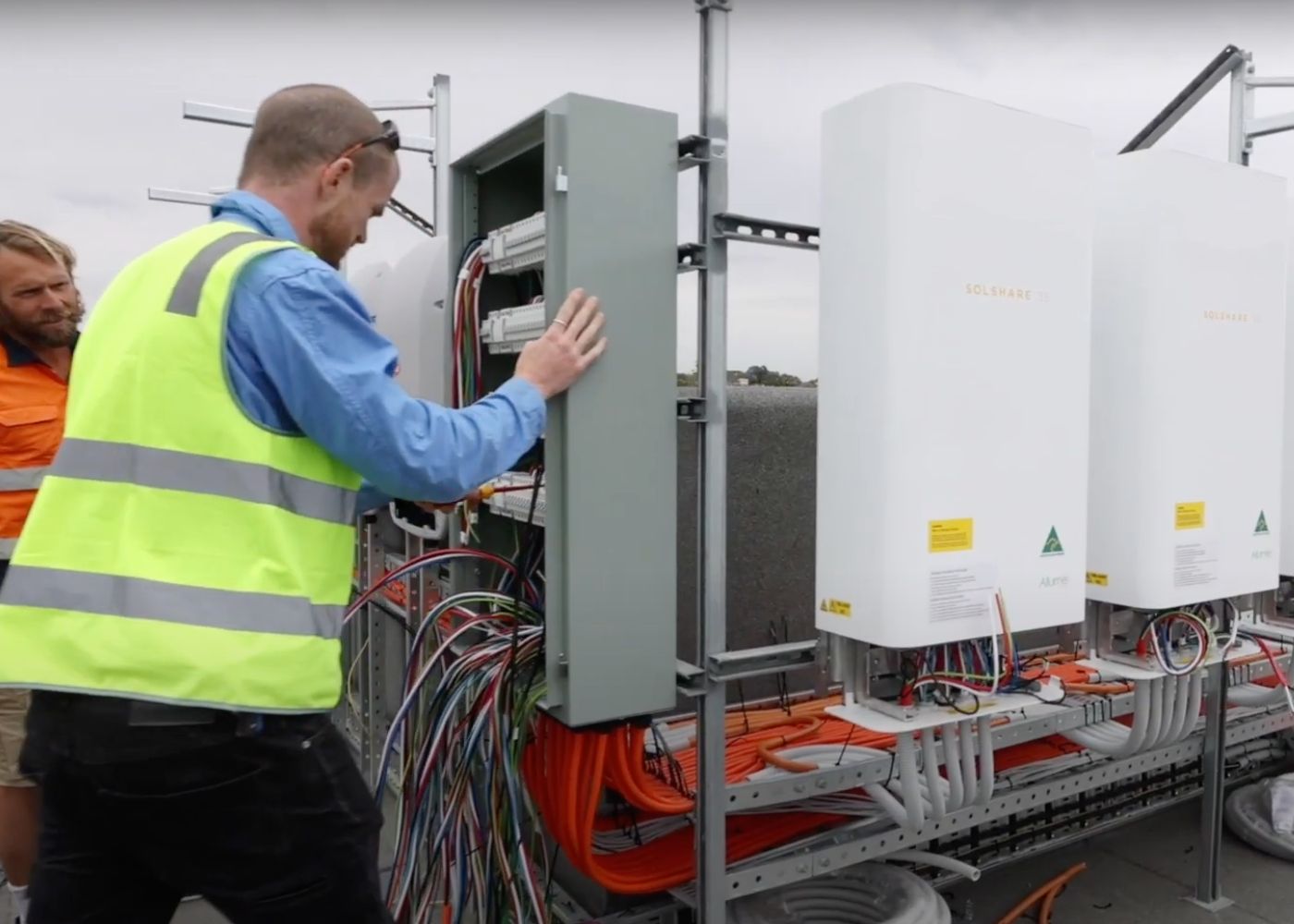 Thinking About Installing a Solar EV Charger in Your Building?
If you're an EV driver, property owner, or council and you're considering installing a solar-powered EV charging system then get in touch with us today. We'll be happy to talk you through the SolShare and how this unique system can help make installing eco-friendly EV chargers easier and the added benefits it will bring.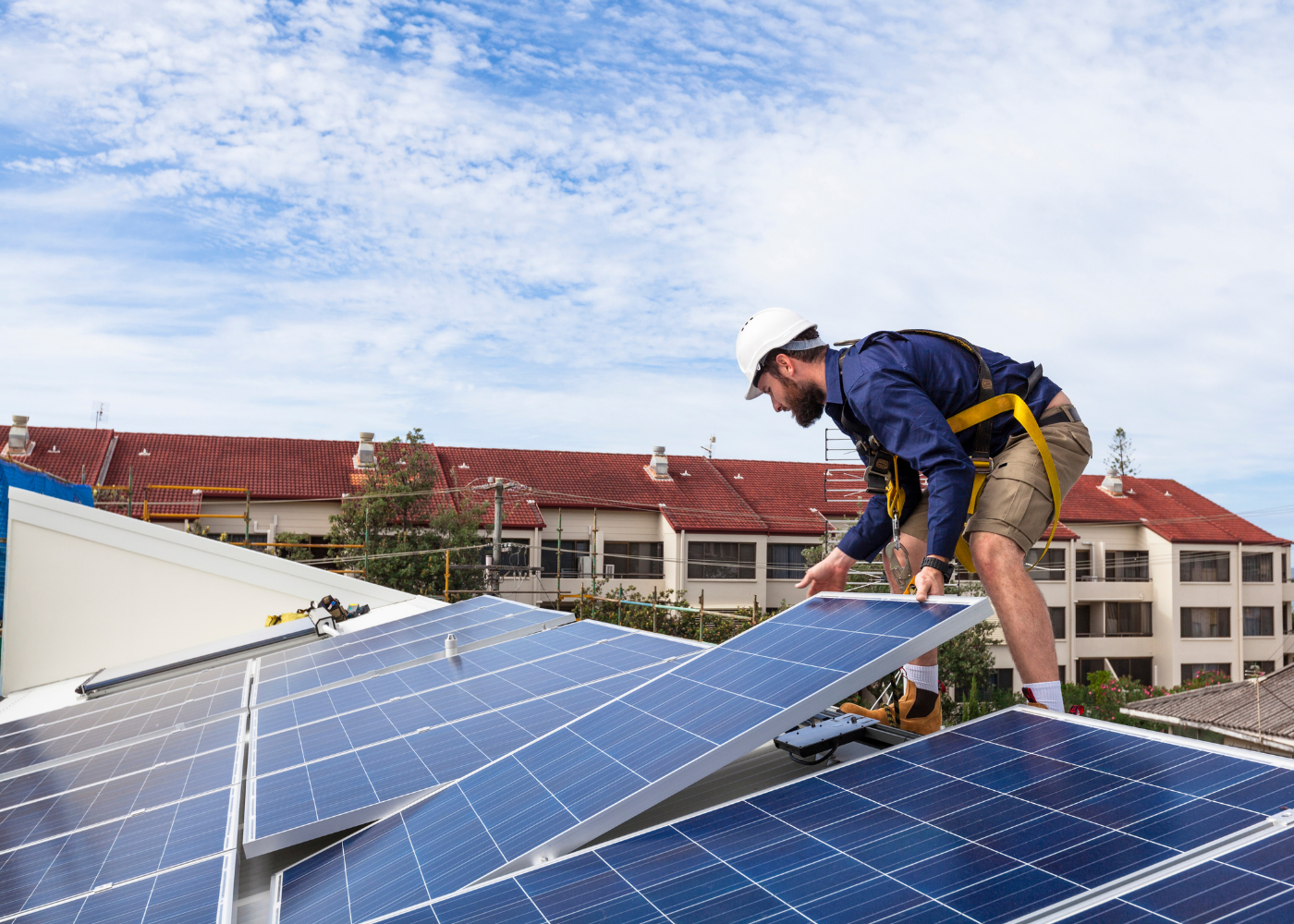 As our populations continue to grow, the need for energy increases, as does the cost of electricity. But there's another problem we're all too aware of – the impact greenhouse emissions are having on the environment. Taking all this into account, it's not surprising that more and more developers and local councils are exploring microgrid solutions.
While not a new concept, they are rapidly increasing in popularity and necessity, with governments worldwide investing in establishing local microgrids.
In this article we'll have a look at:
What is a Microgrid?
How do Microgrids Work?
Community Example: Solar for Apartments
Benefits of Microgrids
Keen to Learn More?
What is a Microgrid?
A microgrid is a grouping of energy resources within a locally defined area. This could be an apartment complex, neighbourhood, business park, hospital or university campus. Essentially, a microgrid provides access to power for consumers within that set area, so if the main grid ever fails, they are protected from being impacted.
How Do Microgrids Work?
Let's first zoom out to discuss 'the grid'. This is the main power hub that connects residential homes, businesses, and most organisations to power so they can use whatever requires energy to run – from lighting to climate control and everything in between. The challenge with the grid is that if a transmission line is damaged by a truck accident or a big storm, then thousands of homes relying on that trunk of the grid can experience brownouts or blackouts. In this scenario, a microgrid could be a safety net.
While they are generally connected to the main grid day-to-day, microgrids can swiftly disconnect and operate autonomously in the event of the main grid failing. They can use solar, wind and other renewable energy sources to generate their own power and store it in batteries for use when there are no renewables. They can also charge their batteries from the main grid using low-capacity transmission lines, forgoing the need to upgrade those transmission lines at significant expense. Some remote microgrids may never need to be hooked up to the main grid and are self-sustaining.
Community Example: Solar for Apartments and Condos
Let's take a community residential example. If a multi-unit residential complex like an apartment building or condominium is linked in with a local neighbourhood microgrid, it might include apartment solar using a solution such as the SolShare and batteries as part of its mix of energy sources.
In the event of a power outage, any multi-residential complex within the microgrid area will continue to be supported by the coordinated local supply of that grid. For those who have their apartment or unit hooked up to a device such as the SolShare, there will be the added security of additional apartment solar energy stored in the batteries.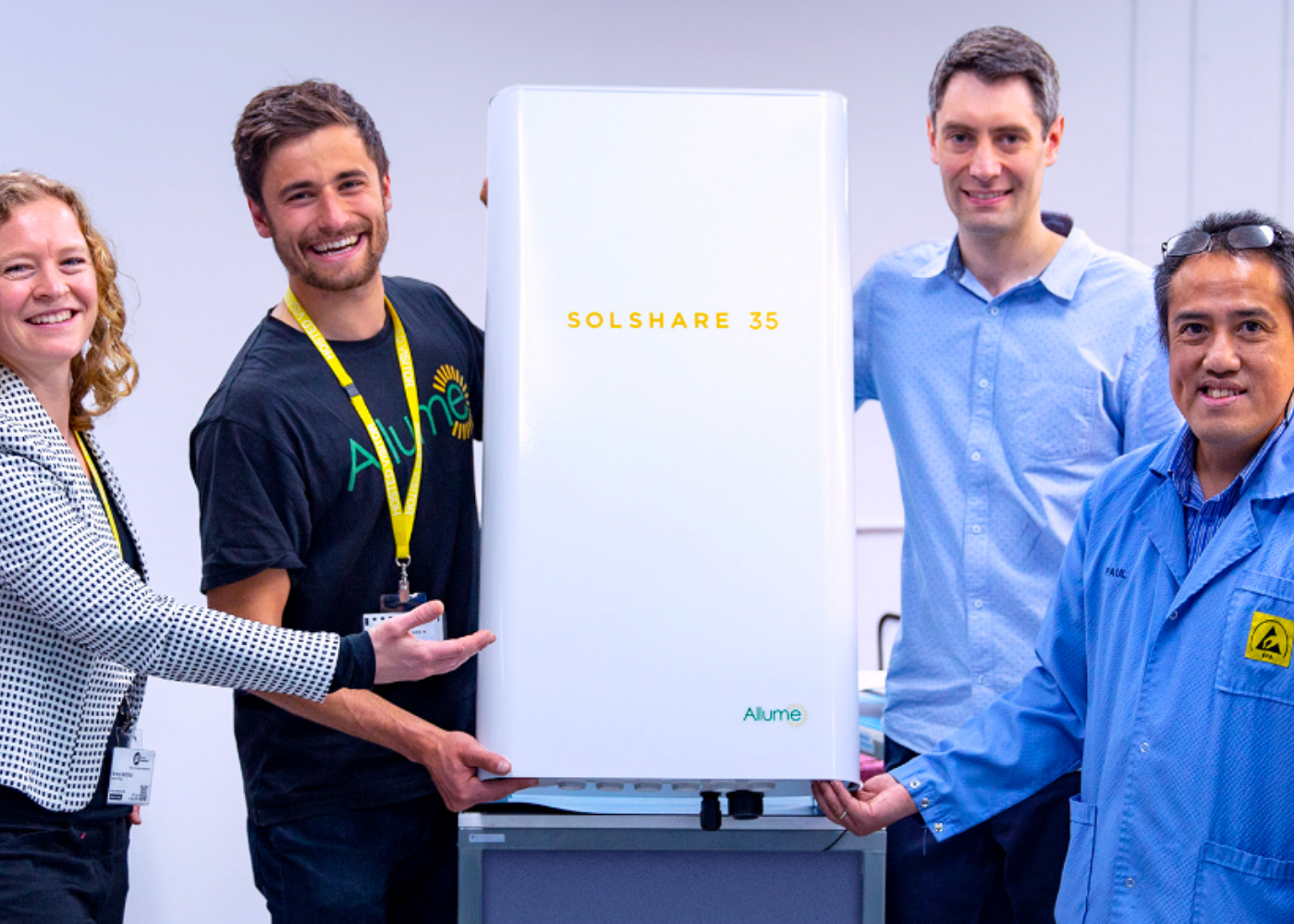 What Are the Benefits of Microgrids?
Back-up power in emergencies
For some microgrids that are designed to allow for 'islanding', if there's a storm, or power outage for any reason, having a microgrid set up in your local area can mean continuous energy supply, regardless of what is happening with the main grid. Microgrid solutions can provide a reliable source of energy and peace of mind for communities in remote or regional areas.
Energy independence
By not relying on the main grid, a locally defined area can be 'energy independent'. This is particularly important for some remote locations, such as rural areas where relying on the main grid might not be a secure option due to low survivability of the transmission lines during bushfires or storms. Microgrids can offer a higher quality of power and energy distribution.
Reduce energy costs
When paired with renewable energy solutions, such as solar panels and solar battery systems, energy costs can be drastically reduced for local areas using microgrids. This is evident when using solar for apartments, with bills being slashed by as much as 30 percent compared to using main grid power.
Minimise Greenhouse Gas Emissions
Having a microgrid set up with solar panels and batteries encourages the use of renewable energy, which is cost-effective and can help reduce emissions which is good news for the environment.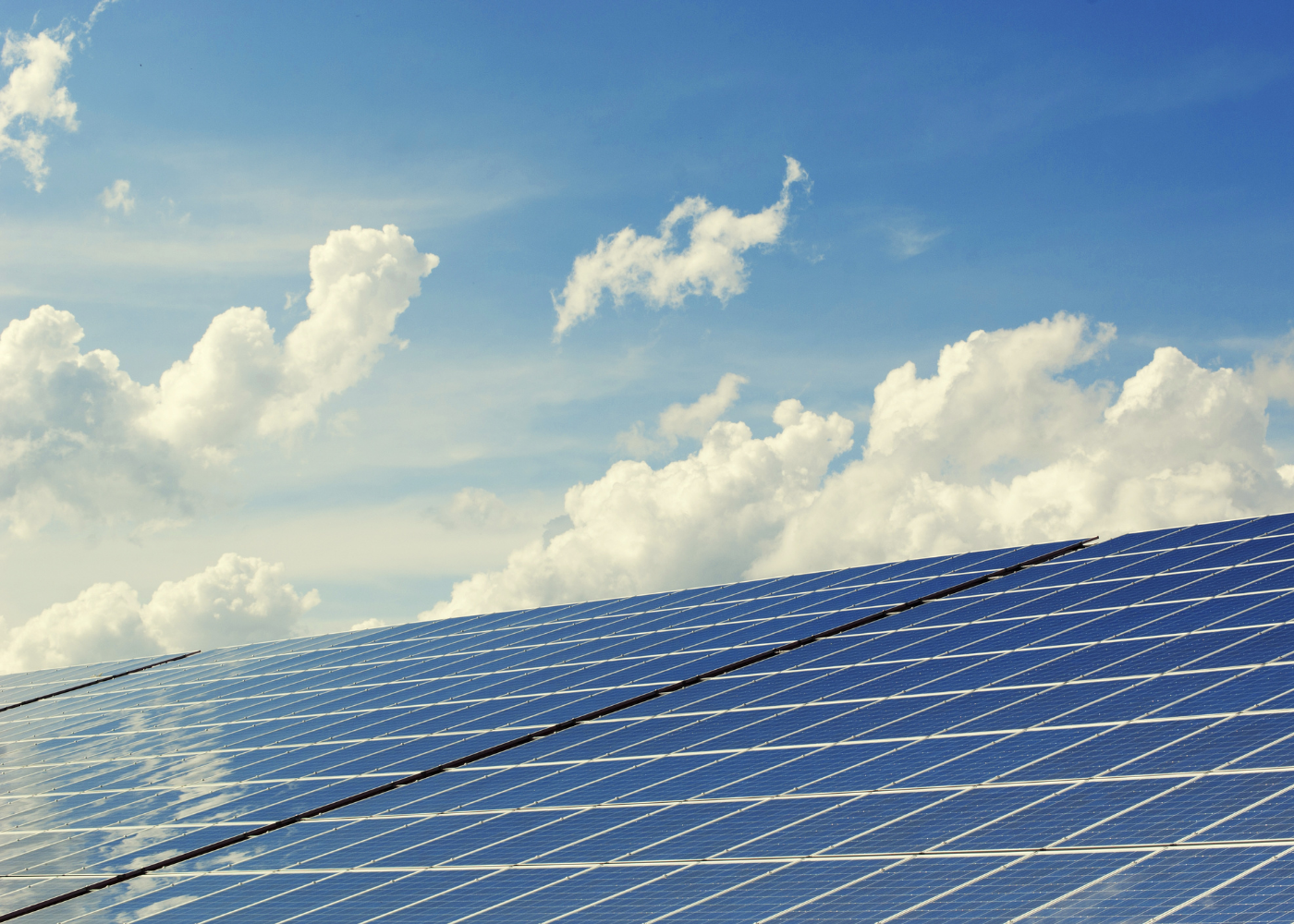 The Wrap Up – Microgrid Solutions
If you're keen to be less reliant on the main grid and have the most reliable access to energy (while also reducing your power bills), microgrids are certainly worth considering. It's also worth investigating possible national or local government support in your area. In some instances, grants are available to help you set up these kinds of solutions.
Keen to Learn More?
Allume's vision is a world where everyone can access clean and affordable energy from the sun. Creators of the SolShare, the world's only hardware solution for multi-residential solar power, we are proud to provide you with the option to reduce your electricity bill and carbon footprint.
Contact us today to discover how you can take control of your electricity usage and access clean energy, no matter where you live.
In April we attended The Clean Fight summit and thoroughly enjoyed discussing the future of a cleaner energy New York.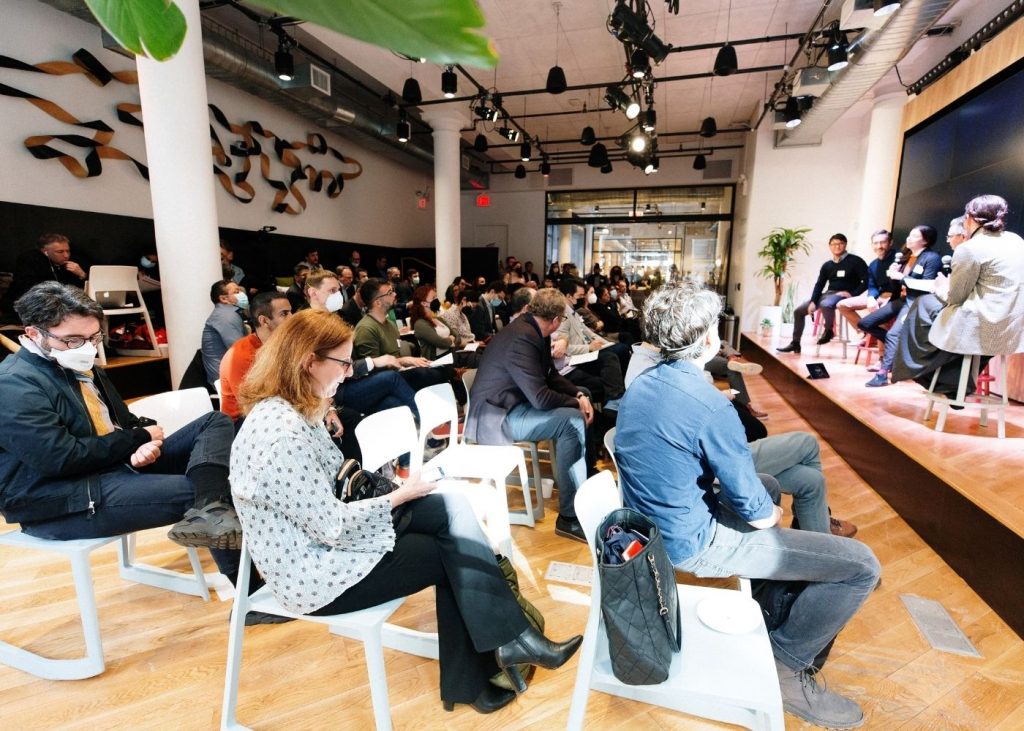 What is The Clean Fight?
The Clean Fight is a non-for-profit accelerator supported by NYSERDA and The U.S. Department of Energy. Powered by New Energy Nexus, it is setup to identify and scale innovators in clean energy for the benefit of New York.
As Cohort 2 participants, Allume Energy credits The Clean Fight for NY-based market expansion and support. Thanks to their program, we are able to pilot our technology along with decarbonization pioneers like Urban Electric Power, SWTCH, The City of Ithaca, Mitsubishi Electric, Alturus, INHS, and more.
On the 12th of April, the nine cohort companies along with many eager visitors attended the Mass Market Building edition. Here we were welcomed on stage to discuss our role in the smart electrification of social housing in Ithaca as part of their commitment to electrify over 6,000 buildings over 8 years.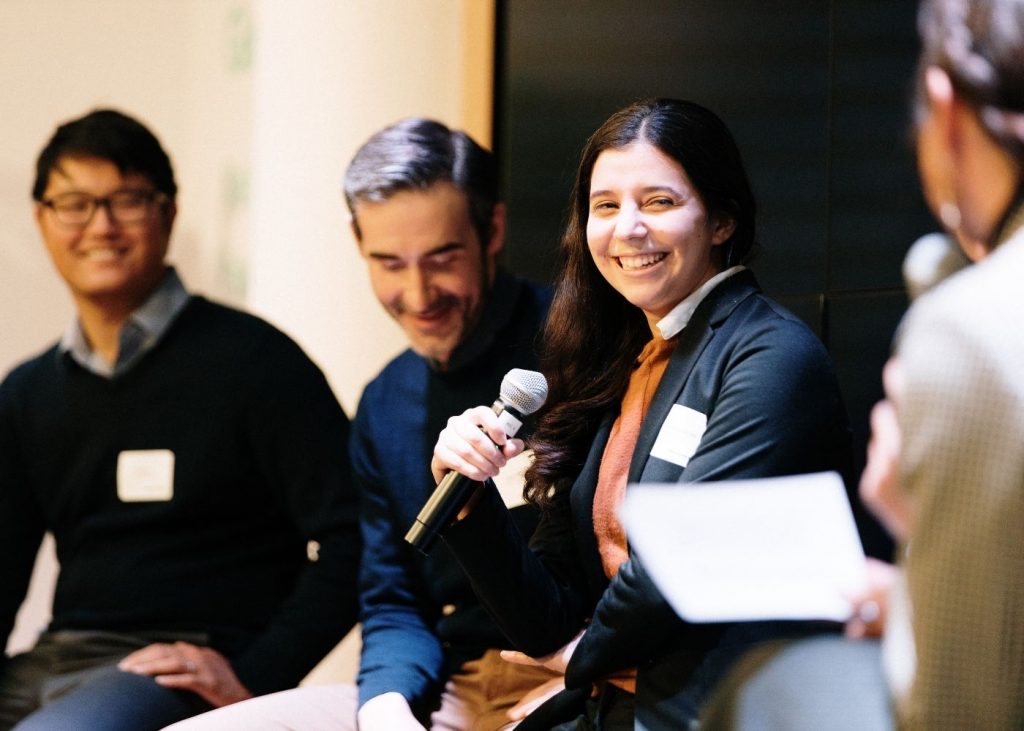 Our very own Mel Bergsneider impressed greatly as per the glowing feedback from our host, Allison Van Hee from Joint Ownership Entity (JOE NYC), and the applause encouraged by Luis Aguirre-Torres from the City of Ithaca following Mel's contribution.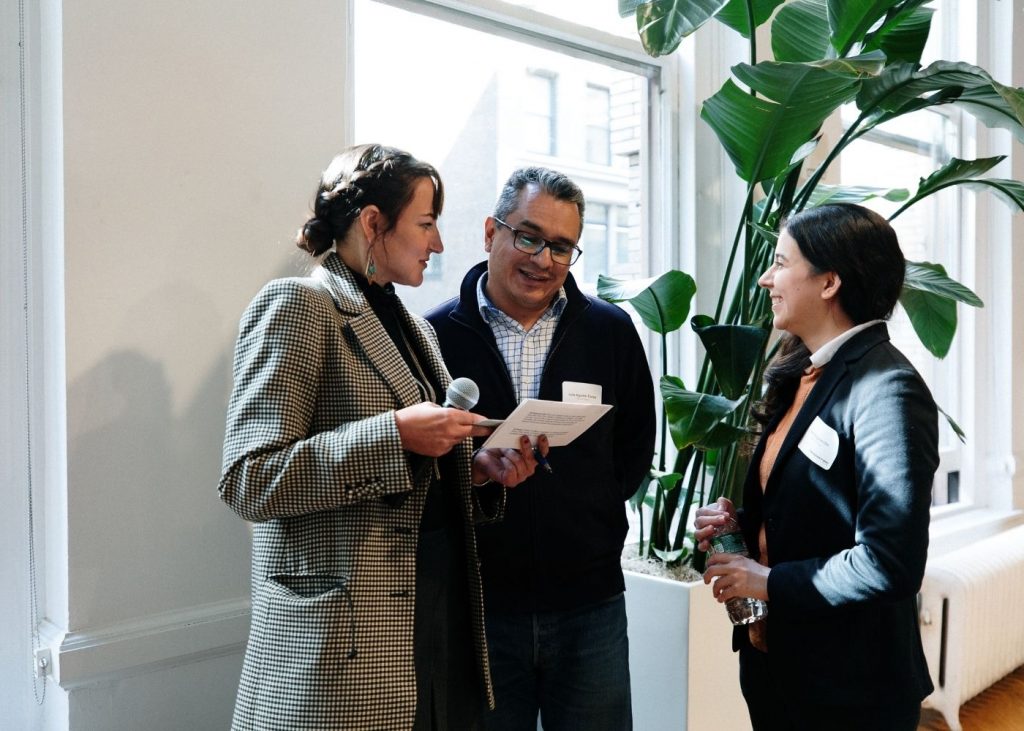 Our favourite quote from Allison was "If you want to know everything about this, you've gotta talk to Mel!".
Watch the whole video below.
Photos courtesy of April Renae @aprilrenaephoto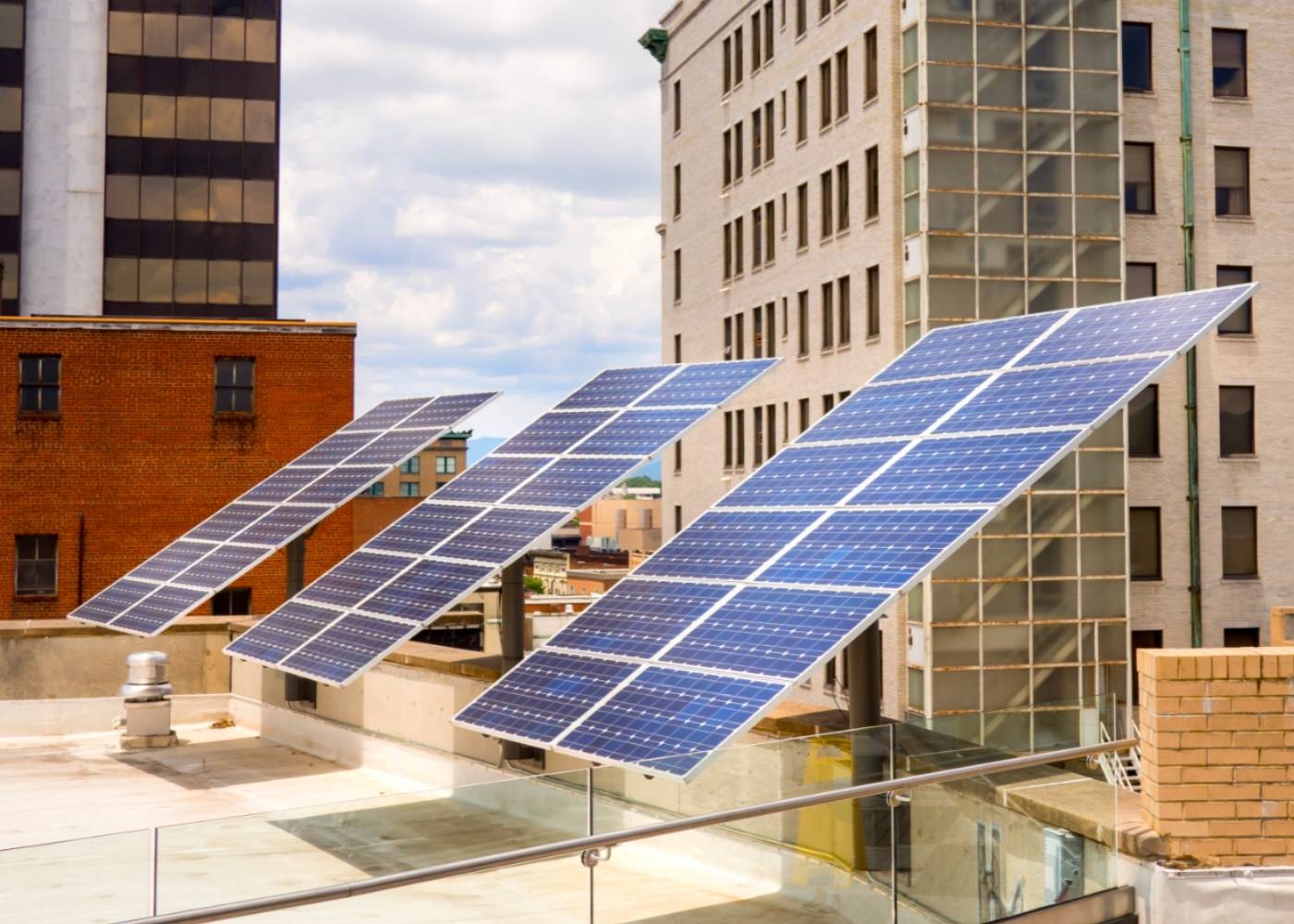 With over 2.2 million Australians living in apartments, units or flats, it's great to know that it's now possible for them to access affordable solar energy solutions. This means that they too can reap the benefits of renewable energy. Australia is the world's leader in harnessing residential solar, and with the introduction of new tech that enables multiple apartments to connect into single solar energy systems, we are likely to remain in the number one spot. This is just one of the options we'll discuss in this article when it comes to solar for apartments.
Whether you are a developer, building manager, landlord or tenant, it pays to understand what's available.
Let's look at the following:
Option 1: Common Areas Only
Option 2: Individual Solar Systems
Option 3: Shared Solar Systems
How To Use Solar Energy In An Apartment Building
Option 1: Solar for Common Areas Only
When you install apartment solar panels on a shared rooftop area, energy generated can be used to power lighting and any other electrical systems like air conditioning. These can be used in common areas such as gyms, recreational settings, lobby and foyers and shared pathways.
This option is preferable if there's extremely limited roof space or several shared areas that use more energy. It's likely to be the only option in high-rise buildings. It's a straightforward solution as only one meter and electricity account is linked to the system. This overall cost can then be split evenly across the apartment owners through the owners corporation or strata corporation.
What's the downside of solar for common areas only?
There will be no direct benefits to the owner-occupiers and renters in the building, as the rooftop solar will not be connected to their apartments.
Option 2: Individual Solar Systems
When there are only a couple of residents interested in having solar for apartments or townhouses, then individual systems could be the way to go. The individual solar installations are placed on the roof and separately connected to electricity meters for individual units. If the building block is a only one or two stories tall, this option can work, as it's likely there will be sufficient roof space to fit each apartment's individual system panels.
Will I need permission to install my apartment solar system?
Yes. If you own the apartment you will need the approval of the owner's corporation or strata corporation to install the system. This will require a motion to be passed at a meeting, which may raise questions as to why common roof space is being reserved for solar that won't benefit all the apartments.
What if I'm renting – are apartment solar panels still an option?
If you are a tenant, you will need to speak with your landlord or agent to get permission to install solar panels, and in turn, it's most likely that they will need approval from the corporation. You will also need to pay for them, or persuade your landlord to pay for them, which may be a challenge!
What's the downside to individual systems?
It can be costly to install an individual system, plus there could be tension in the owners committee/strata corporation of available roof space and roof space ownership to contend with. It is with these downsides in mind that we created the SolShare – which enables shared solar for apartments.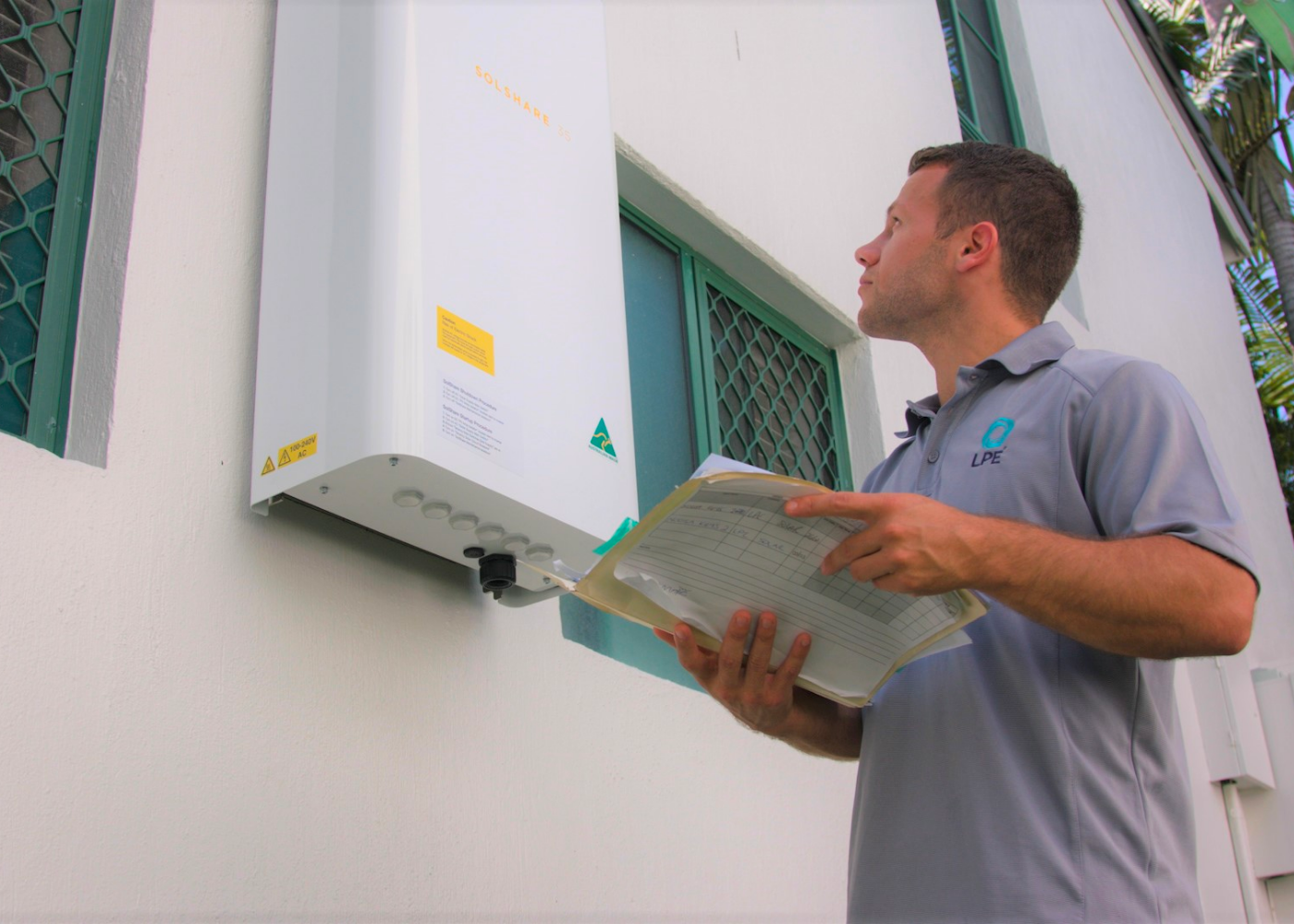 Option 3: Shared Solar
With this option, a single rooftop solar installation can be shared between multiple neighbours within the same apartment building. Currently, there is only one company that has developed and offers the technology to support this new approach.
Here at Allume Energy, we are proud to offer the SolShare.
To ensure that this setup is fair for everyone, The SolShare provides the same amount of solar energy to each residence over one month but supplies it as it is required by each apartment.  Our solution also includes monitoring, so users know how much solar power and grid power they are using.
Any apartment that is metered can be connected to the SolShare. Common areas can also be powered with this system. Anyone who doesn't want to participate can 'opt out'.
How is the solar energy shared fairly and evenly?
Throughout each month, the SolShare algorithm monitors and logs the quantity of solar energy delivered to and used by each apartment. It also ensures that every dwelling connected to the system receives the same amount.
This means that even if your neighbour is using a high amount of solar energy, you will still receive the same solar benefit as them over the month.
What are the benefits of the SolShare system?
Reduce CO2 emissions to help stop climate change.
Cut down your electricity bills by over 30%.
Allow you the freedom to keep or change your electricity provider.
Use air-conditioning on hot and sunny days without fear of a massive electricity bill.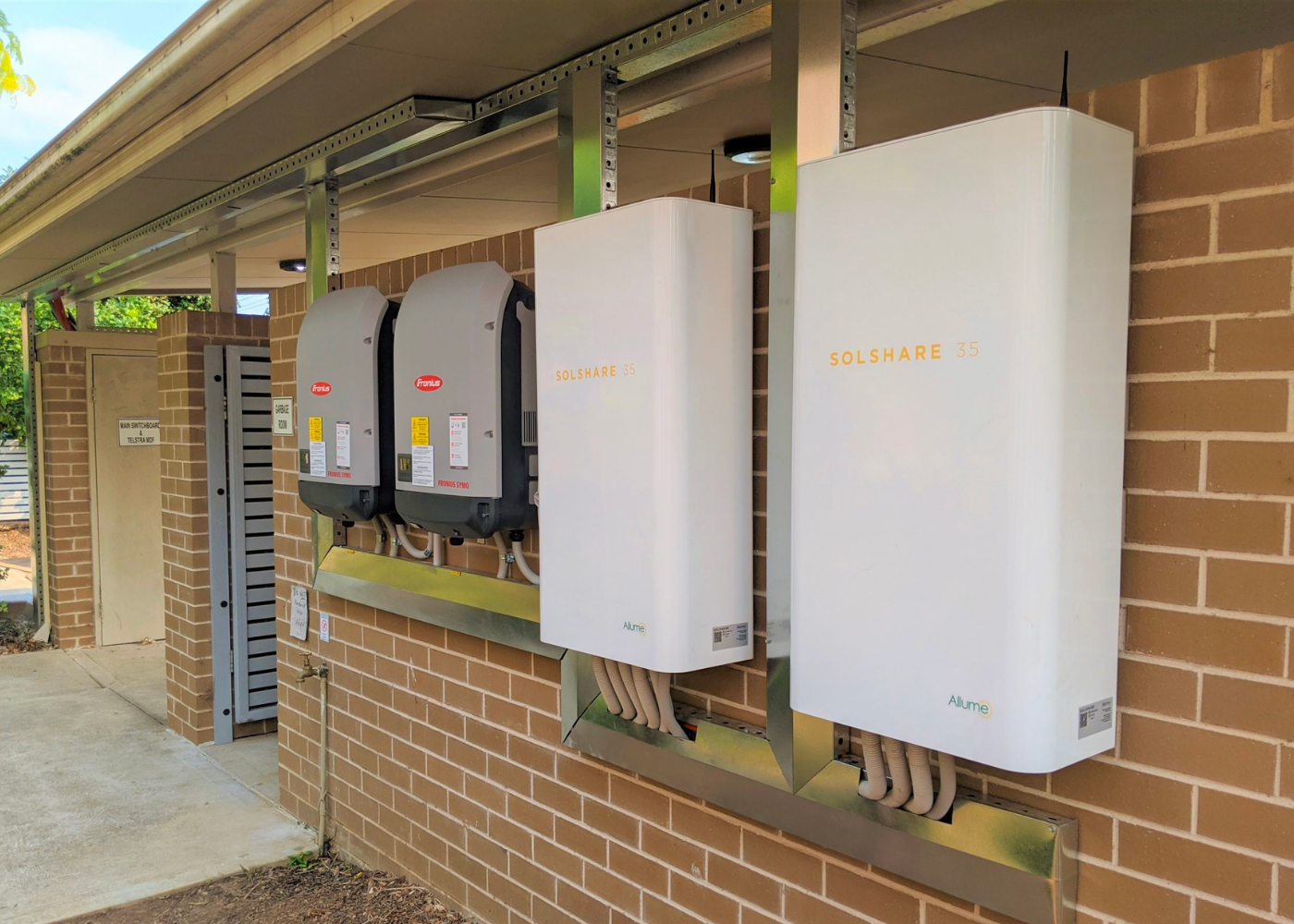 Which Solar Power Option is Right For You?
Advancements in solar technology have made it possible to reap the benefits of solar power for all dwelling types, including apartment buildings. Whether you want to power shared common areas, opt for an individual solar system or are ready to explore a world-first technology, we have the solution. The SolShare is easy to install, financially straight forward and an affordable process.
Can The SolShare Work For Your Apartment Building?
The SolShare is the world's only hardware for solar sharing within apartment buildings. Whether you're a developer, building manager, landlord or tenant, there are many benefits to tapping into solar energy and this world-first technology makes solar for apartments possible.
To discover if The SolShare can work for you and your complex, contact the team at Allume today!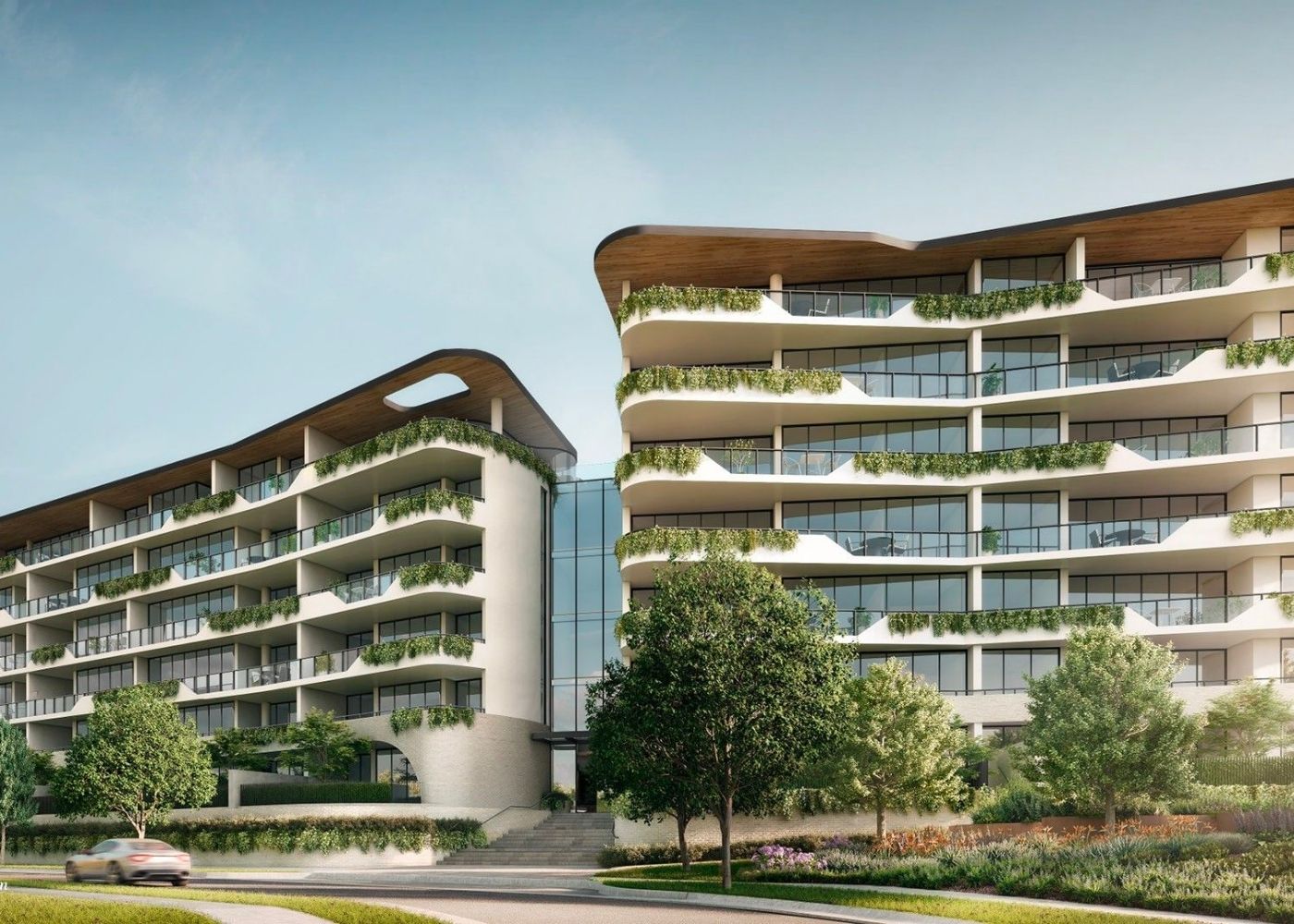 People are increasingly making the switch to solar energy for their homes in Australia and being one of the sunniest locations on the planet, it makes sense. Down Under we have had the highest uptake of solar across the globe with more than 2.68 million rooftop systems installed as of the end of 2020 – that's one in four homes with solar power. The fact is, it's a great way to reduce your carbon footprint and save money on your electricity bills. This is great for owners of detached homes, but can you still take advantage of solar power in an apartment?
The answer is, yes! In this article, we will explore how solar energy systems can work with apartment buildings and the benefits of renewable energy systems in high-rise living.
How Does Solar Power Work for Apartments?
Is It Possible For All Apartments to Access Solar?
Solar Panels for Apartment Buildings – The Benefits
How Does Solar Power Work for Apartments?
As you are probably aware, solar panels work by converting sunlight into electricity. The solar panels are installed on your roof or in another sunny location, and they use the sun's rays to generate power. This power can then be used to run your appliances and lighting, or you can sell it back to the grid.
At Allume Energy, we have created the 'SolShare' – an industry-first technology to ensure that apartment dwellers can benefit from solar energy in the same way a resident of a free-standing house can.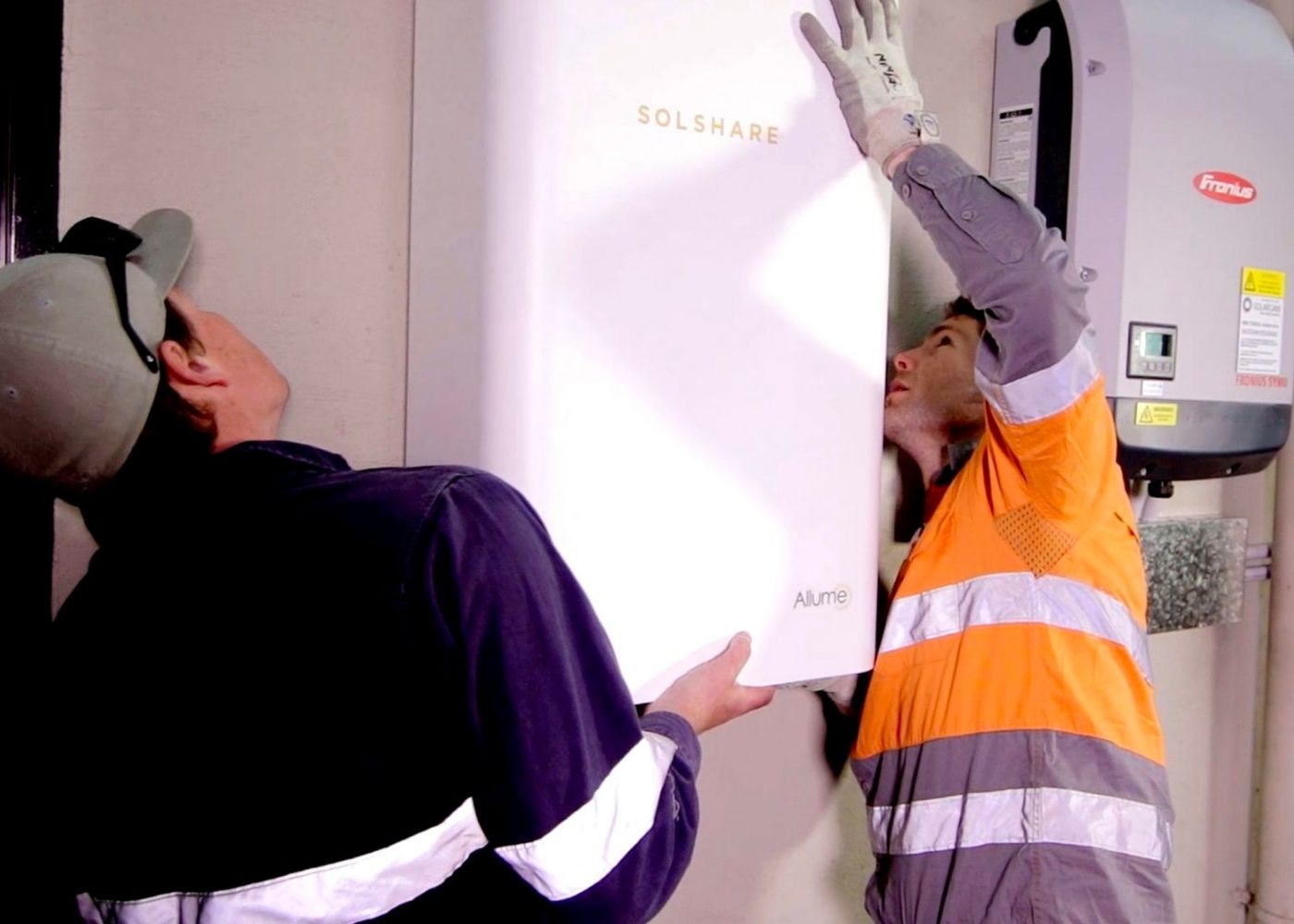 What is the SolShare?
The SolShare allows all residents in a single building to share one rooftop solar installation. Sharing solar means only using solar electricity when you need it and letting your neighbours use it when you don't. Inevitably you will have a different schedule and lifestyle to your neighbours, in that your electricity usage and needs will be at various intervals throughout a period that will differ from theirs.
You will receive your portion of solar energy when you need to use it and when you will save the most money.
The way we have created our solution also means residents are free to choose which electricity retailer they want to go with.
Does everyone in the building have to participate?
That's the beauty of our solution. The solar is directed from the single system on the rooftop only to those apartments which are connected to the SolShare behind their meter.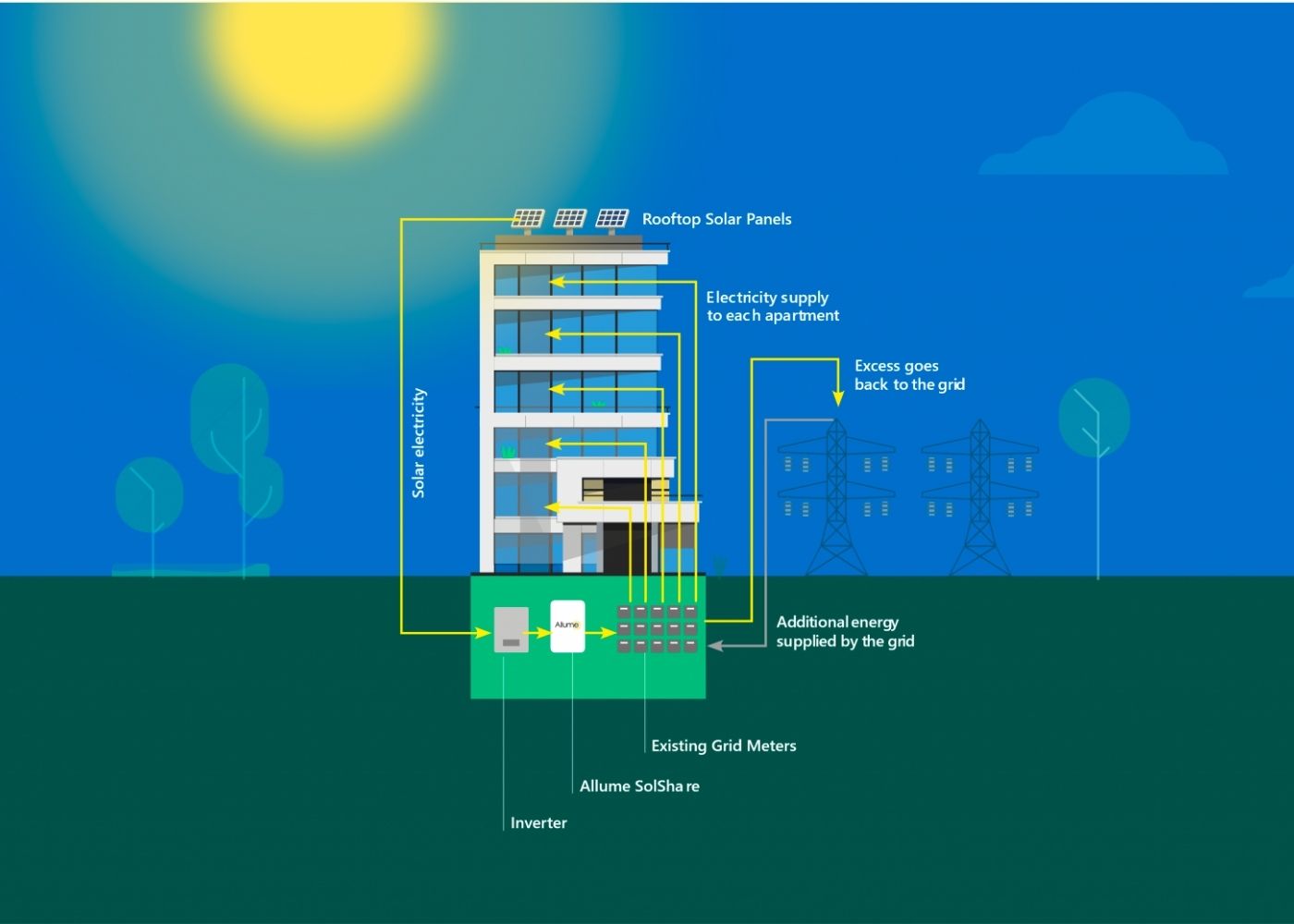 Is It Possible for All Apartments to Access Solar?
At this stage, the SolShare is compatible with apartment buildings that have a minimum of five dwellings, up to a maximum of 60 apartments (per building).
Our renewable energy solution can be installed into:
New builds
Retrofitted into existing buildings
Social housing
Private apartment blocks
There were a few options that existed before SolShare for apartment solar power access, but they were complex to set up and administer, with some including blockchain-based trading solutions and individual systems.
It was due to the complexities that apartment solar didn't experience a huge up-take. Our sustainable solution is the first financially straightforward and affordable option to rooftop solar for apartments and it's raising the roof on the industry.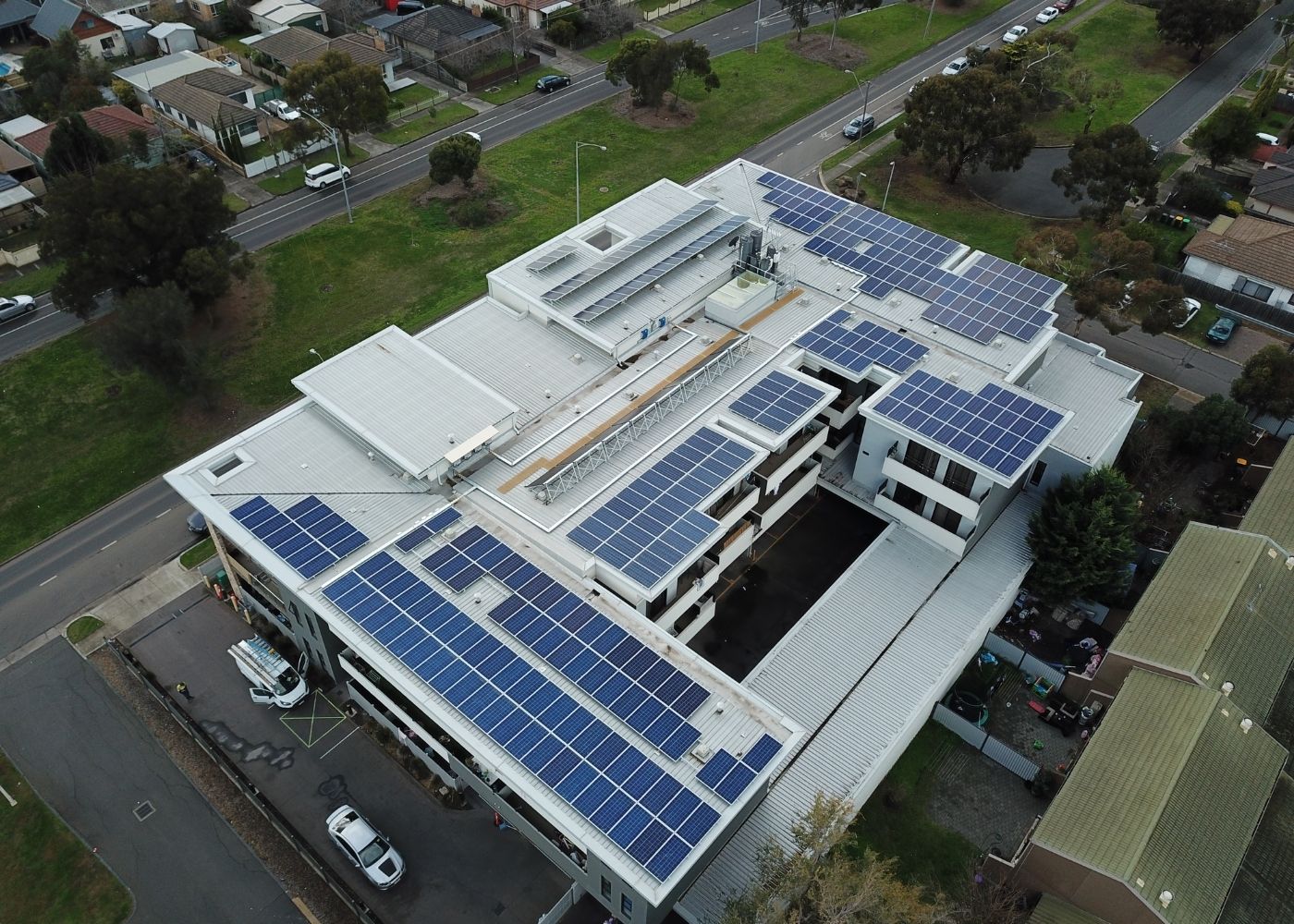 Solar Panels For Apartment Buildings – The Benefits
There are a number of benefits to installing a SolShare system in your apartment block, including:
Cheaper Bills
Perhaps the most obvious benefit is that you will be able to reduce your monthly electricity bill. On average, an apartment connected to a SolShare, will see a 35-40% reduction in grid electricity bills.
The SolShare's sharing algorithm responds to each neighbour's usage instantaneously, which directs the solar to where it's needed to maximise consumption and savings.
Lower Carbon Footprint
By producing your own energy, you will be doing your part to reduce your carbon footprint and help fight climate change. Each year, a typical SolShare will reduce CO2 emissions by 28 tonnes.
Increase property value
Another great benefit of solar panels is that they can increase the value of your apartment. If you ever decide to sell, potential buyers will be impressed by the fact that your apartment is powered by renewable energy. This could give you a competitive edge in the market.
Reduce Grid Reliance
Finally, solar panels are a great way to reduce your reliance on the grid. If your SolShare rooftop installation is also connected to a battery energy storage system and there is ever an outage or you lose power for some other reason, you may still be to stay powered up. This can be especially helpful during emergencies when the grid is down.
The Bottom Line
The benefits of switching to solar energy are well documented, from lowering carbon footprint and saving on electricity bills, to increasing property value.
SolShare is the most simple and affordable solution to rooftop solar for apartments and the world's only hardware for solar sharing within apartment buildings.
Whether you're a developer, building manager, landlord or tenant, there are many benefits to tapping into solar energy and this world-first technology makes it possible.
Proudly Australian made, SolShare is creating further jobs and investment in Australia. Contact us to find out more and if our apartment solar panels solution is right for your building or next project.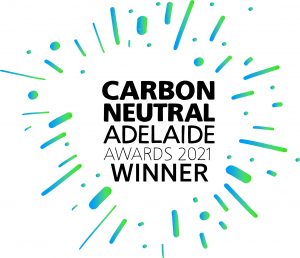 Held every two years, the Carbon Neutral Adelaide Awards celebrate the contributions by Carbon Neutral Adelaide Partners with the shared aspiration for the City of Adelaide to become a carbon neutral city.
Allume Energy and Suntrix Solar and Battery Storage took home the Achievement in Energy & Built Environment award at the Carbon Neutral Adelaide Awards 2021 for the Hurtle Square project.
The Hurtle Square project resolves a significant hurdle for strata communities wishing to access the benefits of shared solar and sets a precedent for apartments and shared strata communities across the City Of Adelaide and South Australia.
The project introduced the application of Allume's SolShare technology in Adelaide apartment complexes, enabling power generated from a rooftop solar system to be shared between multiple dwellings within the same building.
The two SolShare systems in combination with a high performing 62kWp solar array, facilitate smart distribution of clean energy to participating units within the apartment building. This technology monitors the demand of each residence on site and optimises the solar delivery based on who needs the energy at any point in time, while ensuring every apartment receives the same amount each month.
With SolShare, the optimised solar usage results in a reduction of grid energy usage of approximately 100,740 kWh per year – the equivalent of saving approximately 51 tonnes of carbon dioxide from entering the atmosphere. This technology is future ready and can integrate battery technology and electric car charging stations into its networks.
Winners were announced at a ceremony at Adelaide Town Hall with the Hon. David Speirs MP, Minister for Environment and Water, and the Lord Mayor of Adelaide, Sandy Verschoor. Suntrix accepted the award on behalf of the project team, alongside our Hurtle Square client Joshua Baldwin at Munro Property Group. A huge thanks to them, as well as Martin Wilkes and David Pickard of SA Power Networks, George Nesic of OTR, and the whole team at Suntrix Solar and battery Storage and Allume Energy.
Congratulations to all the winners and finalists of the third biennial Carbon Neutral Adelaide Awards.
Allume Energy has won the Premier's Sustainability Award, recognised as Victoria's Industry Leader in the Clean, Affordable and Secure Energy category.
Now in its 19th year, the awards program celebrates individuals, communities and organisations across Victoria in Australia who are leading the way in sustainable innovation and practices across all sectors.
This year, the six award categories were redesigned to align with the globally accepted United Nations Sustainable Development Goals. From renewable technologies to recycling and waste management initiatives and creating sustainable communities, Allume was honoured to be in a cohort of finalists and winners leading the way in transforming Victoria's sustainable energy transition.
Winners were announced at a virtual ceremony this week that included special acknowledgements from The Hon. Dan Andrews MP, Premier of Victoria and The Hon Lily D'Ambrosio MP, Minister for Energy, Environment, and Climate Change.
During the award ceremony the judges highlighted Allume's contribution to clean, affordable, and secure energy through our rooftop solar sharing technology, the SolShare, and noted the recognition had been awarded for the contributions made to date as well as the significant future contributions the SolShare technology will make in Australia and overseas in the coming years.
Allume's Head of Growth Jennifer Pooley accepted the award on behalf of the team. "Allume was founded to unlock the benefits of solar for all and we're thrilled that our technology has been recognised for supporting Victoria's sustainability goals and an equitable renewable energy transition. Congratulations to the team, all the finalists and winners."
Thanks to Sustainability Victoria, the Environment Protection Authority and Solar Victoria for this recognition and their ongoing support.
For more information on the awards, including all the finalists and winners visit https://www.sustainability.vic.gov.au/psa-2021-finalists